Junk Silver (webOS)
2011.01.31 23:09 Available for:
webOS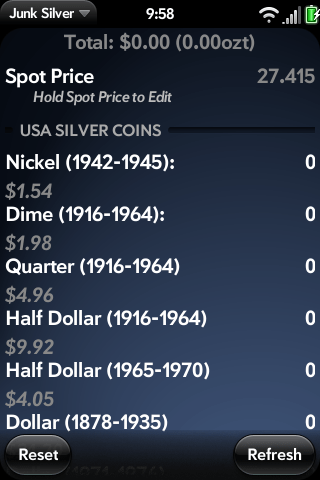 Have a drawer full of change and think it's worth more than face value? Want to make and accept payments using the silver value of all coins? Need to know how much pure silver is in a bag of old change? This application gets the current spot price of silver and lets you find the value of a combination of change (American & Canadian Coins). You'd be surprised at how much your change may be worth. Spot Silver value accurate within an hour of live prices.

Note: this does not provide numismatic values on rare coins. You should take such coins to a trusted dealer for appraisal. For example, a US dollar coin minted between 1835-1964 may be worth way more than silver value. *Seriously. I'm not including 1964 silver dollars unless someone mails me a 1964 silver dollar. Because they were melted.

Added in 1.6.0: * UI improvements * Bug fixes * Silver prices listed under American coins (Canadian will be added in future updates)

On a webOS device? Download here!